Media Luna starts film school for 90 girls in Soweto
Since 2019, Media Luna has been working with the Dutch NGO Kinderfonds MAMAS, on a meaningful project for young girls in South Africa who live under very challenging and poor conditions. The project is called Powergirls and aims to help these girls work on a better future and themselves. The girls, aged between 9 and 16, are mentored for seven years until they graduate from school. Media Luna will travel to the slums in Johannesburg over the coming five years to capture the impact of the program on the lives of the girls. Not only will Media Luna be capturing this, but the girls themselves will be invited to make video footage using cameras sponsored by Vodacom. Media Luna has invited travel journalist Yvette Bax to join them on the past trip, and asked her to write an article about how the program is now running.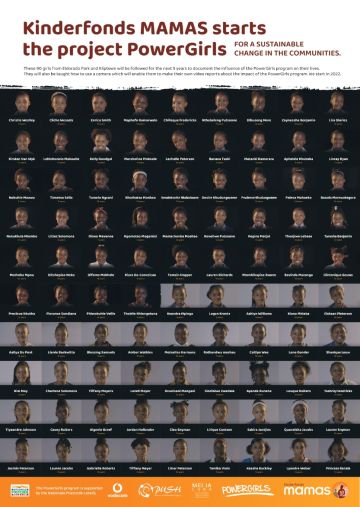 PowerGirls project supports underprivileged girls in South Africa
'We make the girls stronger, prouder and more resilient'
Written by: Yvette Bax
The Dutch NGO Kinderfonds MAMAS has joined forces with its South African sister organization PUSH. To offer underprivileged girls in the slums of South Africa a better perspective. And that is much needed. 'For young girls, South Africa is one of the most dangerous and hopeless countries to grow up in. The chances of a girl in the slums finishing high school are less than the chances of being raped.' The PowerGirls program seeks to break the cycle of poverty and violence, empowering girls and teaching them life skills, in a safe environment.
"Never underestimate yourself. Always believe that you can achieve anything you want. Self-confidence is the most important thing you can have. If you have that, nothing or no one can break you." Twenty young girls sit on the edge of their seats in a circle, listening silently and carefully. Occasionally, as now, their teacher even receives an applause. It is Saturday morning, eleven o'clock. We are in Eldorado Park, a poor suburb of Johannesburg: one of the most dangerous places in the world. Is there a war here? No. Is there terrorism? No. But there is so much poverty, unemployment, and hopelessness that drug use, crime, and gang wars define street life in "Eldo" - as it is called by locals.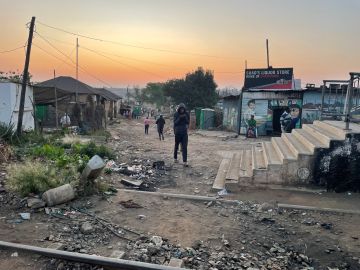 Except here. Because we are at the location of the non-profit organization PUSH (an abbreviation of Persevere Until Something Happens) consisting of a (school) building, a kitchen where they cook for the underprivileged children of this neighborhood, an office and a large courtyard where they dance and play to their hearts' desire, completely enclosed by a large, high steel fence.
Because where outside this fence, shootings occur almost daily, and bullets regularly fly past their target and hit innocent bypassers, the children are and feel safe here. PUSH has several locations in South Africa, two of which are in Johannesburg. Every day children can get breakfast here before they go to school, and another meal when they come back from school. Three years ago, the PowerGirls program was also added: for vulnerable girls between the ages of nine and 16. Every Saturday at 9 a.m., the girls selected for this program come to one of the two PUSH locations, where they are taught life skills. So no math and language, no, here everything is done to empower the girls. Tips, tricks and lessons they can immediately apply in their daily lives. About how they can and may stand up for themselves. About how to turn negative thoughts around. About respecting yourself and your body, and that others should have the same respect. The girls also receive sex education and find in the PowerMamas who guide them confidants to whom they can tell everything and who help them with the problems they encounter.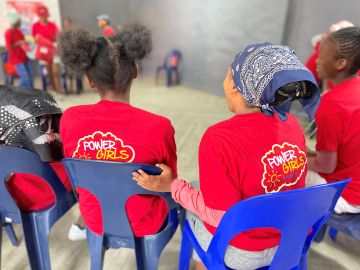 One of those PowerMamas is Carmen Smith, who can be found daily at the PUSH location in Eldorado Park. "It's so incredibly gratifying to be here. To be able to mean something to the children growing up in my neighborhood. The fact that you now see happy faces around you because they are playing and laughing with each other, you might not realize it at first; but all of these children live in very difficult circumstances. Most of them no longer have parents, or their parents are drug addicts. If they are lucky, there is still a grandmother who takes care of them. So none of these children have a role model, there is no one to set a good example. In a place where crime and alcohol and drug abuse is the norm. And where you constantly fear for your life because of all the violence: just the day before yesterday, two innocent teenage boys were shot dead right across the street from here in broad daylight, just standing outside in front of their house. So yes, sometimes for these kids it feels like the world is very dark, and there is no way out. That's exactly why we want to encourage them to (continue to) go to school. Offer them a foundation, support and a listening ear. Show them that they do have the opportunity to create a better life for themselves. But above all we give them a safe space to really be a child. To have fun, and forget about everything else that is going on outside. And you see it around you: it works. I'm incredibly grateful for that."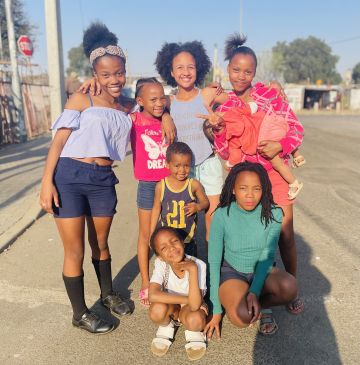 Living with the sweetest grandmother in the whole world
One of the "Eldo" PowerGirls is Shaunique Louw. She is ten years old, and lives with her 72-year-old grandmother. "I became a PowerGirl two years ago," she proudly explains gloating. "I was invited to join the program, and immediately said 'yes.' Why? Mainly because I thought it would be a lot of fun to make new friends, and I really like the activities that are happening. We do all kinds of things: from dancing and playing games, to drawing and playing soccer. We even made a magazine once! We also learn a lot. The most important thing I have learned so far is that I have to take good care of myself, that I matter and not forget myself. That I should respect my family. And we also learn that we should not bully each other, but help each other. That we should treat others the way we want to be treated ourselves."
When we ask Shaunique about her home situation, she gets quiet for a moment, looks away and twists in her chair. To continue talking shyly with her eyes lowered. "I am raised by my grandmother Claira, I have lived with her all my life. My grandfather passed away last year, I miss him very much. But I get to sleep in Grandma's bed now, so I curl up against her, haha. I don't know where my mother is. She is always walking the streets outside, I sometimes bump into her, but sometimes she doesn't even see me. She smokes all kinds of things, uses a lot of drugs and drinks a lot and is very thin. I am very sad about that. She does visit us from time to time to ask how I'm doing and sometimes, when she's sober, she takes me to school. My father has a new wife and four children with her. He is very sweet, I see him once a week and then he asks if I need money, and he also takes me to McDonalds sometimes. But my grandmother is my everything, she is really amazing. She takes such good care of me and is the sweetest grandmother in the whole world, even though life is not easy for her too. We both don't feel safe here, we are both very afraid of being killed and so we almost never go outside. Grandma only goes to visit a friend sometimes, and I really only go out to get groceries. Last week I stayed one night at my aunt's, and then my cousin was hit by a bullet. I would love to move to another country, very far away from here. Together with grandma."
While discussing the day with the PowerMamas afterward, the conversation with Shaunique comes up briefly. To which the mamas say that Shaunique has no contact with her parents at all. That both her father and mother do not look after her and never visit her....
Between horror and hope
After just one day of walking here in the slums, the most horrific stories have already come to pass. One of the girls we saw dancing happily that very afternoon has a kind of whitened face, scarred. The harrowing cause: her parents were high and had left their two sleeping children alone, with the stove still on. A fire broke out; with luck, this girl managed to pull her younger brother and herself to safety. But does carry the, visible and invisible scars, with her for the rest of her life. One of the mamas told us about a little boy who used to come to PUSH. His mother a drug addict, his father a gangster who was murdered. He lived with his mother's ex-boyfriend, who was sweet to him and took good care of him. Until one day his mother showed up at his door, demanded her child back, and indoctrinated him that he should be just like his father. As a result, this ten-year-old little man now walks by default with a gun in his pocket, robbing cab drivers....
Fortunately, there are also many hopeful stories. Lorna Fisher is founder and initiator of both PUSH and PowerGirls, and sees with her own eyes that the children who participate in the projects are changing in positive ways. "I often see that when kids first come here, they have become a little numbed by their environment. When activities are organized, they are absent and don't fully participate. But that always changes the more often they come. Then they dare to be children again and start playing again. I see the hardening in the children go away, and they become more open and softer." Lorna started PUSH in 2000, initially the goal was HIV and AIDS education and prevention. "People were dropping dead by the bushes here in the townships, without knowing why. They had AIDS, but were either totally ignorant about it or did not dare to come out because there was such a stigma attached to it. I then gathered a group of twelve women to visit and care for the sick, and to inform the people in the neighborhood about this disease so that they could take precautions. At one point a cure for AIDS came along, but people here couldn't afford it so they still died. To which the next problem appeared: I suddenly saw more and more neglected children walking the streets alone. When I asked them why they were not at school, the answer was often that their parents were either sick or dead. So then I started taking care of these children with that same group of women. We took them to school and cooked for them. At one point that number grew so much that we started a center, and fortunately received funding for it - because until then we had paid for everything out of our own pockets. In the years that followed, we noticed that especially young girls are very vulnerable in this community. Not only do they fulfill a maternal role within the family, but especially when the parents are out of the picture, they often become victims of abuse and rape. There are no official statistics on this, because the offenders are often in the inner circle and the girls are therefore afraid to say anything. But the pregnancies we see do not lie. That's why we decided to set up a new program especially for this group: to support them and teach them that their bodies belong to them, and no one else. We started this in 2019, and even though the program has only been running for a good two years now, we can already see that many girls' self-confidence has grown. We also visit them at home once a month to see what the situation is like there and what the girls need. The three most important things we teach them? Norms and values, self-respect and self-love. My biggest wish and hope is that the PowerGirls program helps them make better decisions in life. As that they finish school so that later they will find a job and be able to take care of themselves."


Breaking the negative cycle

Both the PowerGirls and PUSH programs are supported by the Dutch NGO Kinderfonds MAMAS, formerly the Nelson Mandela Children's Fund. Kinderfonds MAMAS works together with 36 NGOs in South Africa, supporting as many as 56 different projects: all for the benefit of underprivileged children in this southernmost tip of Africa. Marita Pruijser is project manager of Kinderfonds MAMAS and responsible for the PowerGirls project. She explains why this is one of the chosen projects. "For young girls, South Africa is one of the most dangerous and hopeless countries to grow up in. Most young girls living in the slums face violence, hunger, HIV and abuse. A girl in the slums is less likely to finish high school than she is to be raped... The PowerGirls program tries to break that negative spiral of poverty and hopelessness. What I love about it is that it's a project that spans seven years of the girls' lives. Then you can actually have an impact and make a difference. For seven consecutive years, over 2,000 young girls are being mentored throughout South Africa. To make them more resilient, prouder, and stronger."
To capture this, a documentary is even being made. Filming began in February this year, under the supervision of documentary filmmaker Nathalie Toisuta, and will take as long as five years to complete. Ninety PowerGirls will be followed during this period of time. To show what goes on in the lives of these girls, and what impact the project has on them. Special detail: the girls themselves will also film part of it. They will have phones available with which they will learn how to film, not only to capture pieces of their own lives, but also to learn a new skill: storytelling. This also gives them - indirectly - the message that their story, their life and themselves, actually matter.
Pruijser visited the PowerGirls herself, a special journey that touched her deeply. "As soon as the girls walked in through the gates, I saw their faces relax. They see their friends, the mamas, and they know they are entering a safe environment. I think that's the most important thing we provide them: a sense of security. A home. Peace. Togetherness. That they have a whole group of girls around them who are in similar situations, that they are not alone. In addition, they have the mamas to fall back on and to whom they can tell their stories. I especially loved seeing how much fun they had together, because for us it sounds like something very simple and logical - but having fun is anything but normal for these girls. I hope that they get through their adolescence with as little damage as possible, because they now have a network and a safety net to fall back on. That they can be an example and a piece of hope and support for those around them. That the effects of this project will have a positive impact on the entire community."